Bartolomé Galapagos Island
Bartolomé in Galapagos is an island that offers some of the most beautiful landscapes in the archipelago. The island consists of an extinct volcano and a variety of volcanic formations in red, orange, green, and bright black colors. Want to know more
Bartolome Island
Bartolome Island is a volcanic islet just off the Santiago Island east coast. It is one of the youngest islands in the Galapagos Archipelago. It is named after the British Navy's Lieutenant David Bartholomew. With a total area of ​​1.2 km2, this island offers some of the most beautiful landscapes in the archipelago. The island consists of an extinct volcano and a variety of volcanic formations in bright red, orange, green, and black colors. A volcano with more than 100 meters high marks the island. It is not famous for its fauna but it is for its lava landscape that seems almost unreal and that makes it possible to go back on the evolution of the islands.
The beach in Bartolomé
Most of the boats stop at the spectacular and famous Pinnacle Rock. If you take a panga (small boat) ride from here along the cliffs, you can usually see the small and friendly Galapagos penguin. This is the only type of penguin that exists in northern Ecuador. Directly next to the Pinnacle Rock are the twin bays, the main feature of the island.
The underwater world is really impressive. You can do surface diving with penguins, sea turtles and other tropical fish. The bay is also an excellent place to swim. The twin bays are connected by a narrow isthmus. On the other side you have the unique possibility of observing female sea turtles (depending on the season) that are waiting for the night in the water of the bay in order to lay their eggs on the beach.
Bartolomé Galapagos Island Tour
The most outstanding point of all the visits on the islands is without a doubt the trip to the top of a volcano. A path of about 40 minutes takes you to the top of a wooden staircase and walkways.
The landscape is made up of plants that have adapted to dryness like cacti, something so strange that it seems like something from space.
When you reach the top of the spectacular view, it will leave you breathless. This is the most photographed motive in Galapagos and should not be missing in any photo album. You can watch the twin bay, the Pinnacle Rock, the lunar landscape, as well as the underwater crater. In addition you can watch Santiago Island that is nearby and its famous Sullivan Bay that is fascinating.
Bartolome Galapagos Island How to get there
Several airlines communicate Galapagos with the continent, either from Quito or Guayaquil, one possibility is LAN. The islands with an international airport are Baltra and San Cristóbal, whose IATA code is GPS and SCY respectively.
On flights to Galapagos from Quito (or vice versa) the plane makes a technical stop in Guayaquil. It is not necessary to get off the plane, unless required for some specific reason or because the sections have been purchased separately.
How to move between Islands
The communication between inhabited islands is done through what they call "fibers", which are boats that leave or return every day at the same time of their respective port. The most usual routes are those that connect Santa Cruz (Puerto Ayora) with San Cristóbal (Puerto Baquerizo Moreno), Santa Cruz with Isabela (Puerto Villamil) or Floreana (Puerto Velasco Ibarra), or Bartolomé.
The price of the fibers is about $ 30 per trip and can be booked in advance and in person at any travel agency in the different ports communicated in this way. To do it a day before is enough, although in high season it does not hurt to make sure even more just in case. There are usually no problems but better not to have surprises.
The fiber schedules should be asked if there are possible changes but they are usually always between 6:00 and 7:00 one way and between 14:00 or 15:00 the return. It is designed to go to an island, make an early excursion and return to our base point. No ships leave later because it is forbidden to be sailing during the night, which falls at about 18:00.
It is good to go to the fibers on time if we carry luggage with us since they check it to prevent us from passing food, vegetables, seeds, etc. The protectionist measures with the environment seem exaggerated but are absolutely necessary so that the environmental impact of tourism is minimal.
As for uninhabited islands or protected areas (in fact more than 90% of the archipelago is) it is mandatory to always go with a guide or authorized personnel. To do this you have to hire the excursion on duty, unless we have no problem because we have signed up for a cruise in which everything is included and planned.
In the boats or fibers between islands, even in the motorboats that we use for excursions, it is very easy to get dizzy if we are not very used to them. The rough sea can cause the boat to move too much. If we are easy dizzy it is best that we do not eat anything (or the minimum) before leaving. There are pills that can work to relieve the effects, but better be with caffeine and then not get sleepy.
There is the possibility of covering the flights between islands (Isabela, San Cristóbal or Santa Cruz) by plane in a time that is substantially less than that required by ships and at a price of around $ 100 (one way).
If we want to move on a island where we are (inhabited, of course) there are taxis that are actually pick-ups that take us wherever we tell them. They are not expensive, charging us a maximum of $ 2 in a short journey and being able to negotiate to make a route with them. Of course, as they go without a meter, we should not get into a taxi without previously agreeing on the price. Thus we will avoid surprises and misunderstandings.
Due to the dazzling sun in the afternoon, this walk is recommended to be done in the morning. You will be rewarded for an extraordinary view!
---
---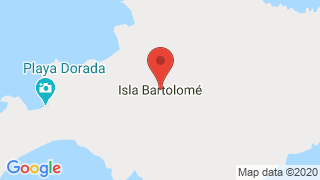 ---
Publicado en: